About Us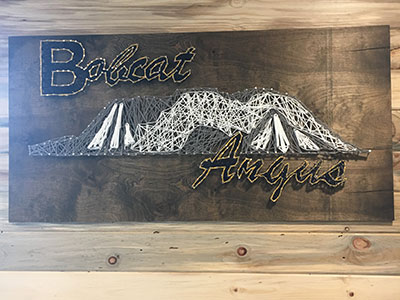 Bobcat Angus is a family owned operation that runs a large registered herd alongside a significant sized commercial herd in extreme weather conditions in northern Montana. Our cattle withstand temperatures ranging from 80-90 below zero windchills to 100 degrees Fahrenheit along with record setting winds. It goes without saying that such conditions play an importance on Maternal traits in our breeding program.
Bryan and Ernie Ratzburg and their children are all a part of our integrated agricultural operation. Bryan and Cathy live on the ranch in the Sweetgrass Hills. Their two sons, Cole and Kamron are involved with the nutrition and breeding as well as animal health aspects of the business. Their daughter, Rebecca helps Cathy with records, marketing and catalog preparation.
Ernie and his family live near Ledger, the location of the family farm and feedlot. His three sons, Justin, Richard and David all help with farming and haying and the grower feedlot. Along with registered and commercial cattle, we also have farm ground and are able to raise all of the feed needed to background and grow our cattle.
Through our genetics and feed program, we are able to keep up with the industry's demands for growth and carcass traits. Our commercial herd becomes a proving ground for our registered cattle.
We are excited about the future of Bobcat Angus and the contributions of the next generation to our program. Cole is an embryo transfer technician and currently does all of our ET work while Kamron, a veterinarian, is responsible for animal health on the herd and has started to take over all the ultrasounding of our commercial cows, registered cows and the bred cattle in our production sale.
Our family business in a full time endeavor and our commitment to our customers is the same. We strive to maintain a program that will please producers. We appreciate your interest in our program.